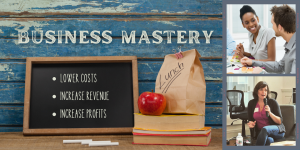 EVER FELT LIKE MARKETING, STAFFING, AND GROWING YOUR BUSINESS WAS LIKE NAVIGATING A DIFFICULT MAZE?
What if you could follow a proven and time-tested roadmap that provides you the EXACT steps to more cash flow and freedom?
At my Business Mastery Lunch & Learn events, join area business owners as we tackle the business challenges of the day. In each session, walk away with no-cost strategies that can be implemented immediately.
Lunch and beverages are provided but registration is required.
To register for an upcoming event, click on the date you want to attend:
January 25 – Topic: Finding & Keeping Employees
(POSTPONED) February 8 – Topic: Position Your Business for a Bank Loan
February 22 – Topic: Exit Your Way – Grow with the Exit In Mind
March 8 – Topic: Pricing Workshop (details coming soon)
March 22 – Topic: No Cost Conversions & Sales Strategies (details coming soon)
Past events included Non-traditional Ways to Find & Keep Superstar Employees, No-cost Lead Generation Strategies, Increase Conversions and Sales With Small Tweaks, and more!
What these events aren't:
NOT a disguised sales pitch
NOT a boring presentation about buying ads that don't result in new customers anyways
NOT a place for me to listen to my own voice for a whole 90-minutes 🙂
What you will get is:
REAL strategies that you can implement yourself
INSPIRATION that can only come from being in a room with like-minded business owners doing the same work at the same time
The PEACE OF MIND knowing that you're focusing on the business activities that really make a difference so you can work smarter rather than harder.